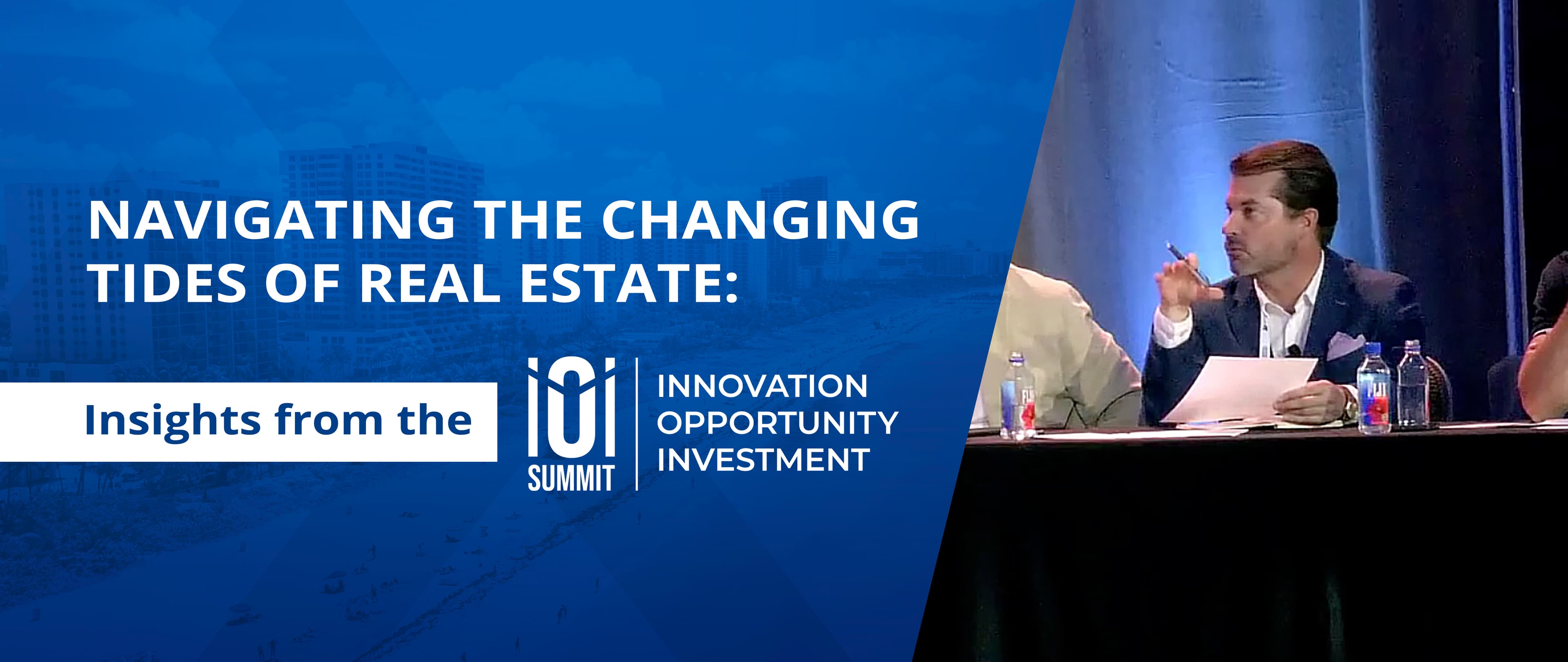 Navigating the Changing Tides of Real Estate: Insights from the 2023 iOi Summit
By Bill Fowler | September 4, 2023
As I was walking the halls of the famous Fountainbleu Hotel, in Miami last week it struck me just how perfect a location it was for the 2023 iOi Summit. The hotel offers glimpses of what it once was – a popular playground for East Coast elites and celebrities like the Kennedys, Sinatra, and his Rat Pack buddies. Today, it's a modern luxury hotel on par with any of the high-end places you'll find on Miami Beach. There's no more Rat Pack, but there's still plenty of historic charm to be found even if the hotel is now a sleek glass and granite space on par with any of the finest spots on Miami Beach.

It's this intersection of the traditional and modern that offered an ideal setting for the crossroads between early-stage proptech and the practitioners who gathered in the ballroom at the Fountainbleu for NAR's 2023 iOi Summit.

It was an honor to be selected as a judge in the Pitch Battle, which offered a literal front-row seat to see eleven of the most impressive companies I've encountered this year. That event was the highlight of my experience at iOi Summit, but I wanted to take a minute and write this blog post to point out a few of the more memorable moments and observations, as well.

The MLS Environment is shifting

I had several meetings with my MLS executive friends on the subject of "what's next for MLSs," but even in the side room conversations with vendors and others in the consulting world, it became abundantly clear that MLSs are thinking WAY outside the usual confines of products and services. I've started to characterize this movement as a graduation from an MLS into something more closely resembling data services companies. That is, rather than simply being the warehouse for listing data, MLSs are making serious plans to become both proving grounds for the latest technology, but also purveyors of "property data"; an important distinction from the traditional "listing data." This concept certainly isn't new, but it's suddenly a serious and immediate path of growth for those MLS leaders we're talking to.

The landscape for all of us is going to change

While I'm not a fan of speculation around pending litigation, there's more than a little evidence that legal issues surrounding our industry are likely going to come to some resolution soon. The exact nature of this resolution is where the speculation comes in, so I'll avoid that. Only to say that the role of the MLS and its relationship to both its member broker and governing/regulatory bodies is going to move into uncharted territory. I find this possibility both a bit unsettling but also very exciting. The best of us will be forced to get better, think differently, adapt, and reinvent ourselves.

The most attractive tech has something in common

If you look at the results of the Pitch Battle, you may have seen what I saw almost immediately. The most impressive companies were offering cool tech, but the underlying aspects were giving the agents time. Putting the best tech in the hands of the best agents is something we should all be focused on. Ultimately, that's going to be the insulation to weather any market or industry shift. Those that performed best at the Pitch Battle had this in their go-to-market strategies. That is, give the agent more time and you give them more deals.

And finally, it's inspiring to be among the best

You don't need me to tell you that you run faster when you're in a race versus running alone. It's interesting to note that the iOi Summit was a room for competitors. Tech companies, VCs, agents and brokers, even competing MLSs. That fact alone was deeply inspiring. We're all together in this space to build something important and iOi brings all those interested into a single channel to direct energy toward a common set of values, even if it's just for a few days. It's truly inspiring to run alongside some of the best minds in the industry.

To participate in the passion and dedication on display there makes us all want to be better and do something impactful. Thanks again to my friends at NAR for the opportunity. See you next year.